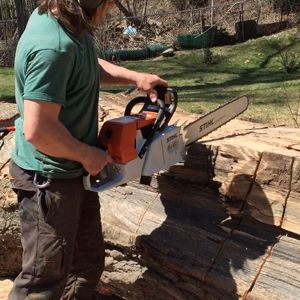 Over 10 years experience servicing the GTA and surrounding area
TS Arborist Services is owned and operated by Tom Steckle, an expert arborist offering his professional services in the GTA and surrounding area for over 10 years. The TS Arborist Team approach each site with experience, knowledge, skill and all equipment required.
Our Practice is Tree Surgery and Tree Healthcare
Trees are living organisms designed to live in large groups over vast areas. Urban trees on private properties face challenges in developing properly in this kind of dense or harsh environments. We feel our role as 'tree surgeons' is to emulate the effect of a forest environment in an urban setting.
To do so, we have identified a few key considerations that include the tree's overall health, its ability to weather storms, increasing the safety of the tree, and usually as a bi-product, increasing its aesthetic value. This is accomplished through proper pruning techniques, improved soil structure, and when needed, tree support systems.